Cinnamon supplier from China looking for business partners
Cinnamon provider
Yunan, China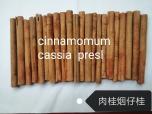 In 2002, Yunan County was awarded the title of "hometown of cinnamon in China". According to the standard of Chinese Pharmacopoeia, "bark contains 1-2% volatile oil, 75-90% cinnamaldehyde, and a small amount of cinnamon acetate and phenylpropyl acetate Acetate). The advantages of Yunan cinnamon top products are:
the high content of cinnamon oil. 5 years old cinnamon oil content of about 3%, and cinnamon oil spicy fragrance source "cinnamaldehyde" content is greater than 90%, far higher than the national standard that requires 75-90%, more suitable for food flavors (cafes, pastries, biscuits, curry powder, five spice powder, food industry raw materials, cosmetics, perfume, soap) drugs.

Ash content in the cinnamon is very low, and it is accounted to less than 2.5%, which shows smooth taste after being made into perfume.
Yunan, Guangdong Province, China, is a natural, pollution-free product of Cinnamomum cassia with hundreds of years of history, which is mainly produced in the alpine mountain areas. The price of "cinnamon" is 13 US dollars / kg FOB, (2) the price of "cinnamon powder" is 7 US dollars / kg FOB (it can be priced according to the customers' needs), and the packing fee is not included, because the packing is determined according to the needs of the customers, with deposit and advance payment of 30%. We can provide samples, accordingly to your business needs, we will send them by express delivery (the postage will be paid by your business).
It can be supplied all year round. From August to September 2020, 10 tons of cinnamon and 50 tons of cinnamon powder can be supplied. In the future, more than 100 tons of cinnamon can be supplied every month. Because cinnamon is a seasonal product (cinnamon is collected from April to October), the quantity in the future will be determined according to the demand of customers and market price.
If you are interested, please contact us:
Email: biuro@sinocham.pl